---
$10 off orders $75 or more with code:
JULY410
Not Combinable
Description
Nervous System Health
Essential for Energy Production
Methylcobalamin Plus Folic Acid
A Dietary Supplements
Vegetarian - Vegan
Vitamins
Vitamin B12 is a water soluble vitamin necessary for the maintenance of a healthy nervous system and for the metabolic utilization of fats and proteins. Vitamin B12 is also essential for the synthesis of DNA during cell division and therefore is especially important for rapidly multiplying cells, such as blood cells. In addition, adequate intake of Vitamin B-12, along with Folic Acid and Vitamin B-6, encourages healthy serum homocysteine levels, thereby supporting cardiovascular health. Because Vitamin B-12 is found predominantly in animal products, strict vegetarians are at risk of developing Vitamin B12 deficiency and may benefit from supplementation.* NOW Vitamin B-12 is vegetarian/vegan (non-animal derived).
---
Suggested Usage
As a dietary supplement, take 1 lozenge daily. Chew lozenge or hold in mouth until dissolved and swallow.
Other Ingredients:
Fructose, Sorbitol, Cellulose, Citric Acid, Stearic Acid (vegetable source), Natural Flavors and Magnesium Stearate (vegetable source).
Caution: For adults only. Consult physician if pregnant/nursing, taking medication, or have a medical condition. Keep out of reach of children. Keep in Bottle.
Store in a cool, dry place after opening.
*These statements have not been evaluated by the Food and Drug Administration. This product is not intended to diagnose, treat, cure or prevent any disease.
Supplement Facts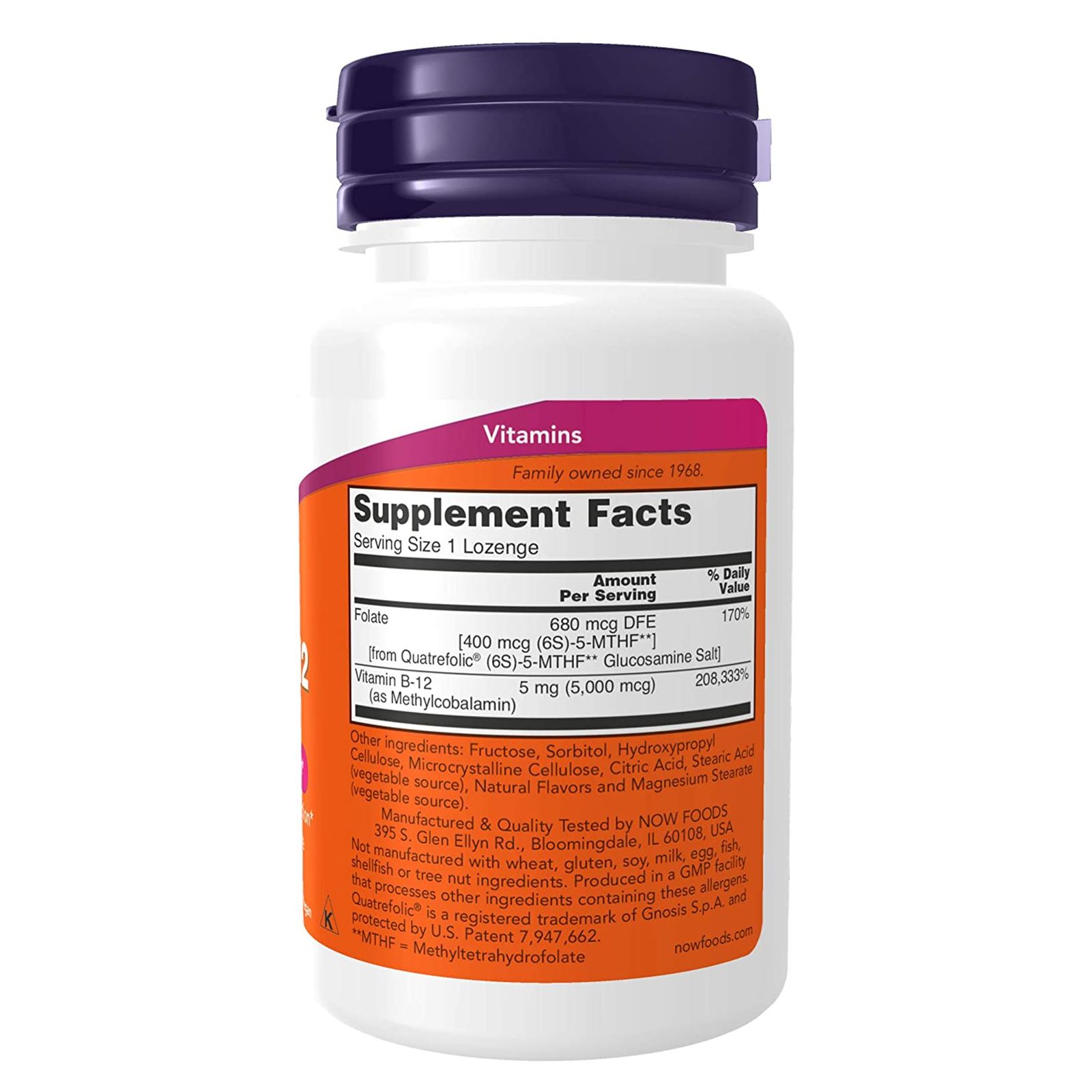 Payment & Security
Your payment information is processed securely. We do not store credit card details nor have access to your credit card information.