---
16% Off Sitewide! Use Code:
16CYBER21
Not Combinable
Description
20 mg of Natural Progesterone Per Pump
No Artificial Colors
No Artificial Fragrances
Paraben Free
Gluten Free
Vegan
Non GMO
Suggested Use
1 full pump dispenses about 1.3 g of cream, providing 20 mg of USP Progesterone. This container yields approximately 65 pumps. Rotate application between abdomen, hands and thighs. Use 1x or 2x daily. For external use only.
Other Ingredients
Water (aqua), aloe barbadensis leaf juice*, glyceryl stearate SE, glycerin, stearic acid (vegetable source), cetearyl alcohol, caprylic/capric triglyceride, helianthus annuus (sunflower) seed oil, simmondsia chinensis (jojoba) seed oil, cetearyl alcohol & cetearyl glycoside, natural progesterone (USP grade), glucose & lactoperoxides & glucose oxidase (natural preservative), natural aroma blend [lavandula angustifolia (lavender) oil*, natural vanilla fragrance, anthemis nobilis (chamomile) flower oil, citrus aurantium bergamia (bergamot) fruit oil], rosmarinus officinalis (rosemary) leaf extract, xanthan gum, potassium sorbate, panthenol, retinyl palmitate (vitamin A), tocopherol (vitamin E) (soy-free), smilax aristolochiaefolia (sarsaparilla) root extract, angelica polymorpha sinensis (dong quai) root extract, serenoa serrulata (saw palmetto) fruit extract, chamomilla recutita (matricaria) flower extract, citric acid.
*Organic Ingredients.
iHerb Statement
Unfortunately this page does not contain the full product packaging information.

In order to advertise with Google, Google required iHerb to remove certain product packaging information or alternatively remove this product from our website.

Google's purpose is to ensure products are adhering to the U.S. Food and Drug Administration's regulations regarding product labeling. iHerb also supports that mission. However we believe removing product packaging is contrary to this goal. We believe customers are best served when they have access to the complete product packaging.

To help customers appreciate product effectiveness, iHerb developed iHerb Reviews. Our 5-star rating system, along with product feedback has proved to be an invaluable tool for iHerb customers. Written by iHerb customers, iHerb Reviews presents candid and unbiased reviews to help customers evaluate statements that appear on the product package.

iHerb has produced this statement to inform our customers on this issue and to provide a link to the website of the manufacturer so they can access the entire product packaging.
Please Visit the Manufacturer's website for more product information.
Warnings
Caution: Discontinue use of irritation or red skin develops, and consult a physician. Do not use if pregnant or lactating.
California Proposition 65 Warning: This product contains progesterone, a chemical known to the State of California to cause cancer. Consult with you physician before using this product.
Please to not buy this product if the seal is broken.
NOW Solutions products are not tested on animals.
Supplement Facts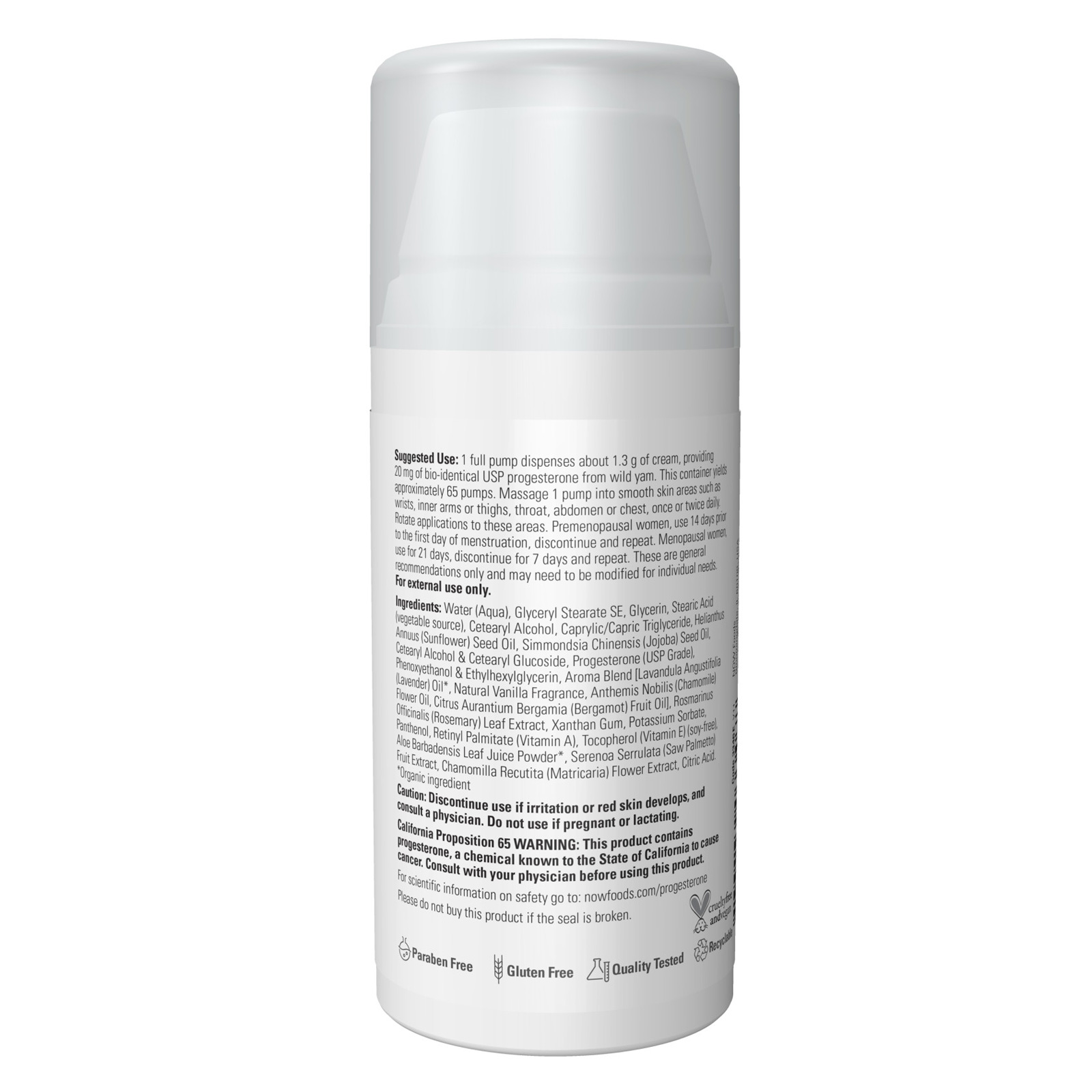 Payment & Security
Your payment information is processed securely. We do not store credit card details nor have access to your credit card information.